Pure Food Cookbook
I really enjoy a nice healthy bars, and Pure Bars are definitely one of my favorite since they are vegan and made with organic pure ingredient. When I found out that they are going to publish a cookbook, my heart floated into the air and my little fingers cant wait to get my hands on them. They were very generous to send me an advance copy.
The book is utterly beautiful and simple. The recipes are easy to make and everything on it is purely what you can find in your grocery market during the season. I love that they organized the book by season because lets face it, we cant find winter squash in may. She puts together what is in season and creates utterly mouth watering recipes. Its cleaver to buy in season as well since its a lot cheaper and the products are at their best.
Recipe I adore in this book are:
Raw Chocolate Chip Cookies
I N G R E D I E N T S
1 cup pitted dates
3/4 cup raw cashew
3.4 cup raw walnuts
1 1/2 tablespoons coconut oil
1.2 teaspoon sea salt
1 teaspoon vanilla extract
1/4 cup cacao nibs
I N S T R U C T I O N S
1. Add the pitted dates in a food processor and blend it till it's well chopped.
2. Add the rest of the ingredients till it's all nicely combined and smooth.
3. Add the cacao nib last and pulse to combine.
4. Use your hands or a spoon to ball out roughly 10 balls of cookies.
5. Leave them in the fridge for a more firm and solid treat or if you are like me, have them straight up. :)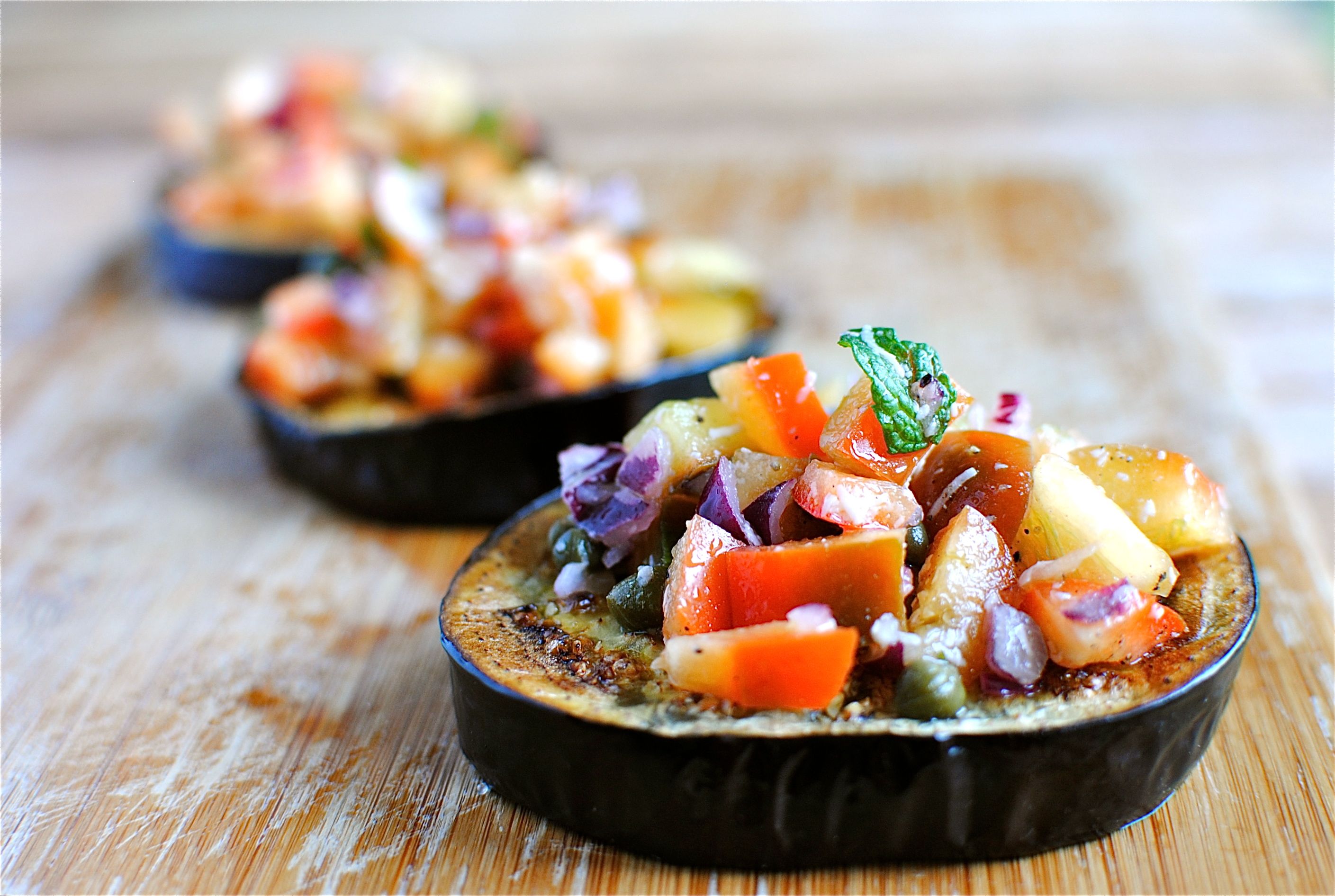 Eggplant Bruschetta
I N G R E D I E N T S
2 medium eggplant
sea salt
black pepper
3 tablespoon olive oil
2 medium tomatoes
1/2 small yellow onion
10 basil leaves
1 teaspoon balsamic vinegar
garlic
I N S T R U C T I O N S
1. Peel the eggplants and slice them to 1/4 inch thick.
2. Arrange them on a baking dish and season with sea salt. Let them sit for 20 minutes
3. In a small bowl, combine 2 tablespoon of olive oil, tomatoes, onion, basil and vinegar. Season with salt and pepper
4. On a hot skillet, add in the patted dry eggplants and cook until they are soft and brown.
5. When done, transfer them onto a plate and top with the tomato mixture. Season with salt and pepper and sprinkle some balsamic vinegar.
As you can see, they are all really simple, basic ingredients that you can find anywhere! It's also affordable and most importable delicious. This meal can make you feel like you were out in a 5 star restaurant! It's your own wonder in your kitchen.